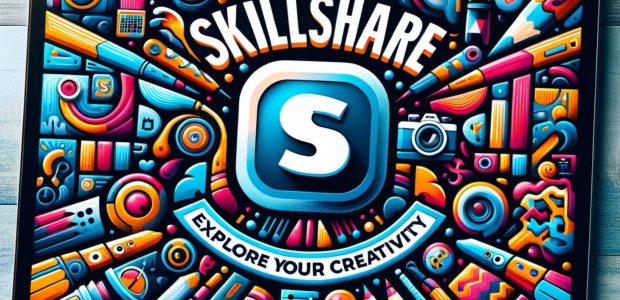 In this blog, we talk about getting access to Skillshare for Free as well as huge premium subscription plans for Black Friday offers as well as Cyber Monday offers.
You can get 2 FREE months of unlimited Classes in all the Skillshare course catalogs. This is applicable for the first 1000 customers only.
Now you will get a flat one month for Free from Skillshare
Check out this latest offer from Skillshare right below
Skillshare Black Friday Offers
Starting today, you have an exciting opportunity to enjoy a one-month free premium Skillshare subscription. But that's just the beginning! Keep an eye out for our upcoming annual subscription deals, specially tailored for the Black Friday and Cyber Monday season.
This month promises exceptional offers and unbeatable deals that you won't want to miss. Stay tuned for more updates, and get ready to make the most of these amazing opportunities!
About Skillshare.com
Skillshare is a portal for online courses. It has thousands of courses in different categories. You will find very good courses in the creative category. It is not limited to just the creative category, you will find courses on technology, project management, Lifestyle, business, etc.
It also has a concept of scheduled online workshops. You can join workshops related to your domain and gain experience building real-time projects.
Get Skillshare for Free
Let's have a look at all the options to get a free premium account on the Skillshare platform
2 Months Free Offer
The best thing about Skillshare.com is, that you can start with two two-month free accounts before subscribing to their monthly or annual plan. It lets you decide whether you want to continue their paid plan. Isn't that cool?
Here is the step-by-step guide to getting the Skillshare free account.
Step 1: Head Over to www.skillshare.com
Step 2: Click the "start of free" option as shown below. It will take you to the signup page with the offer.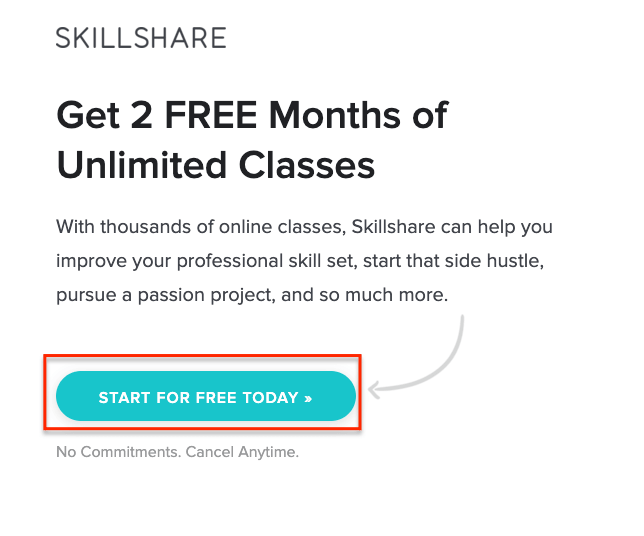 Step 3: Sign up using Facebook, Gmail, or your email id.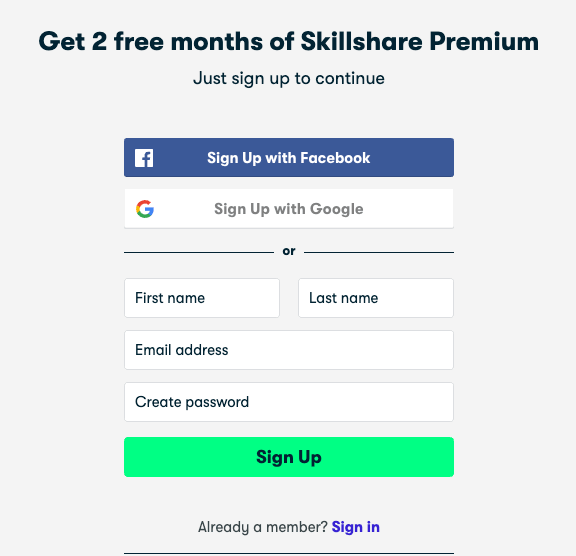 Step 4: Enter the required signup details. Now, you can see the price as $0 for two months as shown in the image below.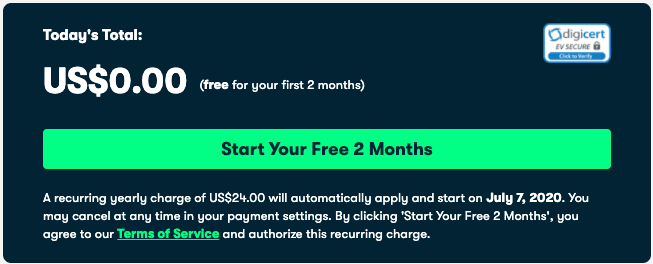 Use the option "Start your free 2 months" and checkout with $0 to get 2 months of free access.
Refer A Friend To Earn One Month of Free Skillshare Access
Do you really like Skillshare classes and what if 2 Months of free account is not enough? We have a great way to get additional free months from Skillshare.
Follow the steps given below.
Step 1: Log in to your Skillshare account
Step 2: Go to "My Classes" at the top right corner. Select the "Refer a friend" option.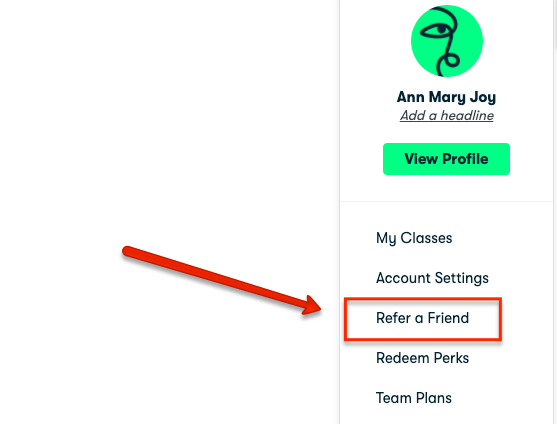 Step 3: Invite friends using their email addresses or share the dedicated link provided on the page with your social media friends.
If your friend's signup using the link, they will get free two-month skillshare access and once they become premium subscribers, you will get a free month. You can stack your free month with as many referrals as you want. This way you can use skillshare completely free.
Skillshare Student Discount
Skillshare has a premium scholarship program where you can request a one-year premium Skillshare free account.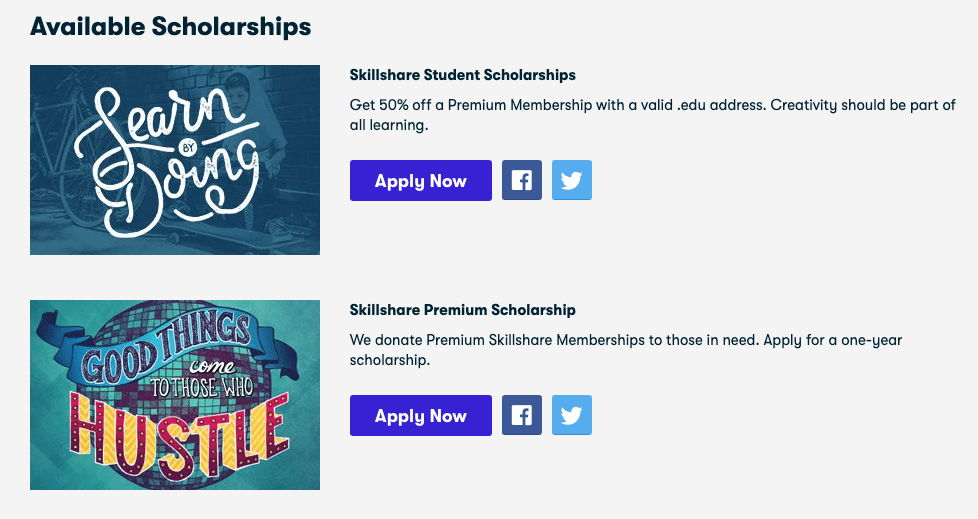 This program is for students who want to make a change through learning and cannot afford a year of premium membership. To apply for this scholarship your age must be above 13.
If you are a student and not eligible for the scholarship, you can use your .edu email address to get a 50% flat discount on the premium membership.
Apply for the Scholarship here
Skillshare TA Program Offer
You can be a teacher assistant (TA) on Skillshare. Meaning, that you can join Skillshare as a teacher assistant to take classes on Skillshare.
When you apply and become a TA, you will get a free premium account as long as you remain a TA. This is a great opportunity to become a teacher and part of a big learning community.
Apply for the TA program from here.
Other Skillshare Discounts
Other than the free account, there are different discount options available. Check out our Skillshare offer store where we update the Skillshare coupons every month.
Key offers are,
20% Off on monthly subscription
33% off on 6 monthly subscriptions and
47% Off on 12 monthly subscriptions.
FAQs About Skillshare Free Access
Following are the FAQs related to Skillshare's free account.
Is there a free version of Skillshare?
Yes. The basic subscription is free in Skillshare. You can access the free courses without any limitations.
Is Skillshare Premium Account available for free?
Yes. You can get started with the Skillshare free premium for one month before opting for paid plans. You can cancel this subscription anytime before starting the paid subscription.
Is skillshare worth it?
It depends on what you are trying to learn. You can start with the free account and see if it fits your needs. The best part is, once you have the free subscription you can access all the classes on the Skillshare platform. Based on your own experience using it for two months, you can take decisions on further membership.
Conclusion
We have listed out the best possible ways to get a Skillshare account for free. All these ways are officially approved ones.
Let us know which option you choose to get your account.